A steal, a deal and a meal
Potawatomi Bingo & Casino
SATURDAY
February 10, 2018
$40 Per Person
You pay $40, you get up to $20 back!
Bus to Potawatomi Casino
Your opportunity to get a much needed outing in before winter; "Bus to Potawatomi Casino".  The next one day excursion is scheduled for Saturday, February 10, 2018.  Join us for the perfect day outing.
With nearly 3,000 slots in the latest themes, and denominations from 1¢ to $100, that lucky machine is just waiting to hit! Explore all possibilities with the hottest gaming action across two massive floors full of table games, slot machines, bingo, poker and off-track betting.
Pay $40 and receive up to $20 back. Your $10 slot play and $10 meal coupon are guaranteed. Get an additional $10 in rewards play if you earn 100 points. It's a steal, a deal and a meal.
Potawatomi Hotel & Casino

Dice, cards, spinning ball, reels, horses: Pick your pleasure and get ready to be entertained. Whatever your game of choice, we've got it!
$40 Payment Due Immediately to Reserve Your Space (non-refundable)
Join our Potawatomi Bingo and Casino trip, reserve your seat today!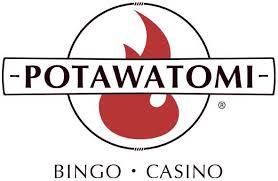 We offer online registration and payments for your convenience.
Registration
Click the "Book Now" button to the right and you'll be taken to the registration form. Complete the registration ***be sure to include your birth date, it's required by the casino.
Payment Options
All of our payment options are secure. Learn more here.
Click the "Pay Now" button to the right to pay your deposit and reserve your space. Pay securely via credit card and/or PayPal, no account necessary. You can use any credit card, mail or phone to pay for your excursions.
Register online by completing our Tour Registration Form:
Book Now
Pay online with PayPal. 
No PayPal account required.  Just click "Don't have a PayPal account" and use the secure PayPal credit card payment option, without having to log in to PayPal. Pay Now
***THE DEADLINE HAS PASSED TO MAIL REGISTRATION FOR THE "BUS TO POTAWATOMI" TRIP***
Register by mail: Make checks payable to Regal Coach Lines and mail to 251 East 95th Street, Suite 625, Chicago, IL  60619.  All major credit cards accepted.  Please include the following information with your payment:
Name of Tour
Your Name
Phone #
Address, City, State and Zip
Roommates name
Roommates Phone #
Your Date of Birth
Smoking Room? Yes or No
Handicapped Room? Yes or No
Contact a Knowledgeable Tour Specialist in our Tour Department:
773-994-0202