As a family owned and operated business for over 35 years, Regal Coach Lines, Inc. is proud of our commitment to providing a safe and reliable environment for our customers and staff.  The health and safety of our passengers and staff continues to be of utmost importance.  During these uncertain times, travel looks a bit different. Regal has implemented best practices to combat the spread of COVID-19 using the CDC, the National Association of Motorcoach Operators, the American Bus Association and the United Motorcoach Association as resources.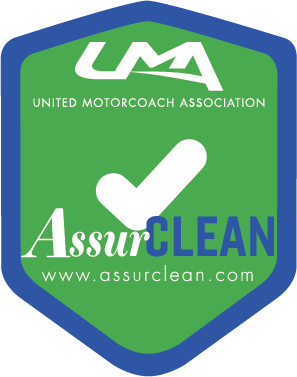 These best practices include, but are not limited to:
All surfaces of our facilities and motorcoaches are thoroughly cleaned and sanitized after each and every trip with an FDA approved disinfectant cleanser. We also sanitize daily during multi-day trips. 
Training for use of PPE by all of our staff.
Masks will be expected to be used by each passenger while boarding and unboarding the coach, until further notice. 
Social distancing on the coach which requires fewer passengers.